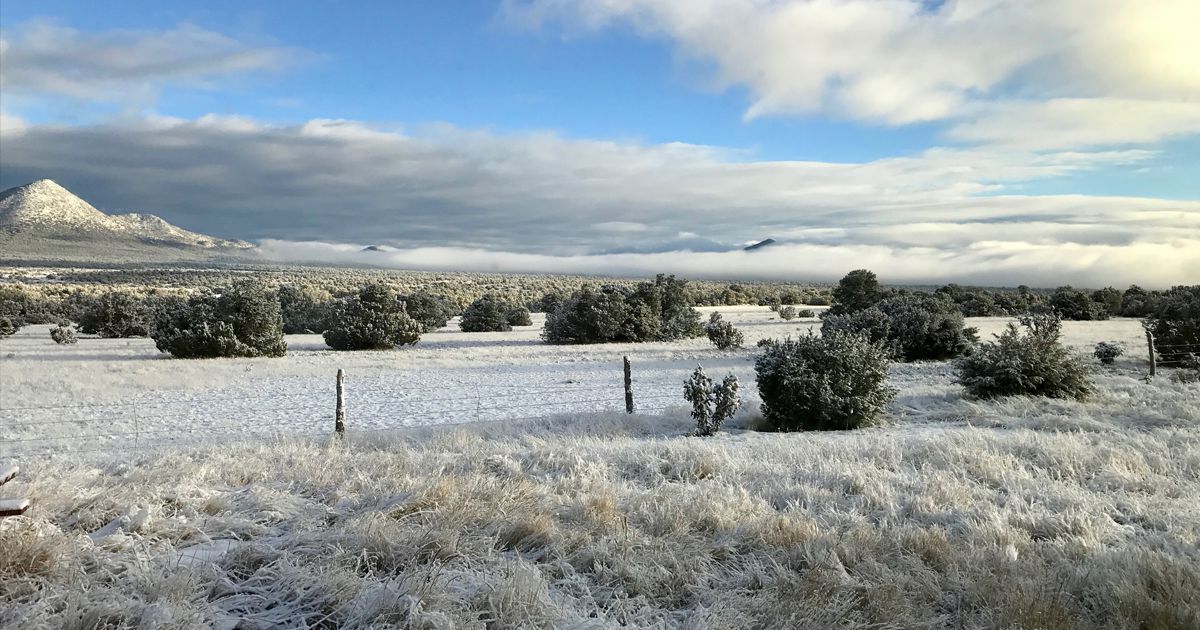 Greetings from Lone Mountain Cattle Company
Hello Everyone!
Here's hoping that every one of you has been having a great start to the year. Pictured below is a beautiful winter wonderland at the ranch. Mother Nature did not disappoint this winter season.

2017 is shaping up to be an exciting year for Lone Mountain.
We are busy getting ready for our 5th Fullblood WagyuProduction Sale on Saturday
May 20th at the Beef Barn inside the New Mexico State Fairgrounds in Albuquerque. Mark your calendars. We are confident that this salewill be a great way to start your herd if you are new to the breed – or enhance your current herd. Highlights of the (primarily) Female Sale will include 4 SCD AA Fullblood Wagyu Bulls, including one that is rated AA 10 and 100 Fullblood Wagyu Heifers and Cows, Pairs, Bred and Opens.
Schedule of Events for the Sale:
Lone Mountain will host a welcoming reception from 5-7pm MST on Friday evening, May 19th, at the Marriott Hotel in Albuquerque (Sale Headquarters). Wagyu Sliders will be served. A great place to network and get to know your fellow Wagyu breeders.
We are in the planning stages of a BREEDPLAN seminar on Friday afternoon at the sale site – stay tuned for further developments.
A free lunch on Saturday just prior to the sale. We will be serving Lone Mountain Wagyu Brisket tacos and mouth-watering Lone Mountain FB Wagyu Sausages.
The Sale will begin promptly at 1PM – Butch Booker, Auctioneer. Sale management by Jim Danekas Associates (JDA).
We have special room rates booked at Albuquerque Marriot Hotel, 2101 Louisiana Boulevard NE Albuquerque NM  87110. Please use this link to get the best rates.
This is the 5th Lone Mountain Production Sale – all with the same management and auctioneer. This will be the first, however, without Jim Danekas on the podium. Though his daughter Mercedes will competently be with us in his stead.
At the same time as we are putting the finishing touches on the Sale Catalog, we are also polishing up our first LMR Bull Battery Guide – which should at the printer shortly.  We are confident this directory will be very useful for those looking to utilize Lone Mountain FB Wagyu genetics to refine and improve or simply to diversify your herd – whatever your breeding goal: F-1 to Fullblood.
In addition to putting a tremendous amount of work with putting together the sale catalog, we finished photography just last week. Allan Browarny handled the tremendous work of capturing beautiful images of every single animal that will be for sale on May 20th.
All this work couldn't have been done without the help of our ranch manager, Stanley Hartman (4th rider from the left). He's been at the helm of the ship for 13 years now. Justin Boatright is Lone Mountain Cattle's new herdsman, taking care of all our animals now for almost a year.
Finally, stay tuned for the launch of the new Lone Mountain website – we are putting the final touches on it now – with the able assistance of both Nellie Stadherr and Michael Beattie.
We look forward to seeing and meeting you this coming May. Please reach out to info@lonemountaincattle.com for the latest updates.