JAPANESE ROTATIONAL BREEDING PLAN
(Known as Modoshi Kohai)
For breeders who are influenced by this traditional Japanese rotational breeding plan, promoted by well-known Japanese Wagyu breeder Shogo Takeda, an updated version follows – including our battery of Lone Mountain Sires. The system consists of sires being divided into groups (either Marbling or Frame). There are just two rules:
First – Cows sired by "Frame" Sires should be bred to "Marbling" and
Second – Cows sired by "Marbling" Sires should be bred to "Frame" Sires
A sire is determined to be of one of these two groups by a straightforward and effective assessment tool: the Japanese 16-16 Analysis. First, the combination of key regional Wagyu strains is identified over four generations in an individual's pedigree. Second, the combinations are analyzed for those strains' likely outcomes. With that analysis in mind, successful breeding choices are made clear.
Kenichi Ono puts forth in his book 100 Elite Wagyu Sires in Japan (Vol I-III) a definition of "successful breeding", which is echoed by Takao Suzuki and Mike Buchanan at the Australian Wagyu Forum:
Understand the characteristics of each strain
Plan combinations to cover weak points of individual strains
Don't over-emphasize one strain.
In this way, one can use the 16-16 analysis to get a sense of the outcome of breedingone animal to another.
As a point of reference, the following major strains and sub-strains of Japanese Black Wagyu commonly exhibit the following traits:
Okayama (Shimomae): Large Frame
Sub-strains: Shimomae, Kiyokuni, Fujiyoshi, Itozakura
Shimane: Outstanding Structure, Strong Length, Depth, and Good Milk
Sub-strain: Itozakura
Tottori: Large Frame, Superior Meat (Marbling) Quality, Good Milking
Sub-strains: Eiko, Kedaka
Hyogo (Tajima): Superior Marbling, Most Popular
Sub-strains: Yasumi Doi, Kikumi Doi (aka Kikuteru Doi), Oku Doi, Shigakananemi (aka Kumanami), Shiroiti, Kanemon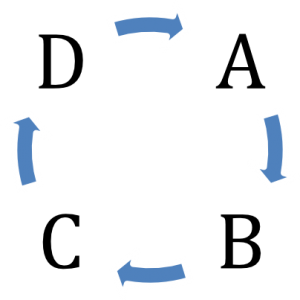 THE ROTATIONAL BREEDING SYSTEM GROUPS ARE LISTED BELOW:
---
[FRAME]
GROUP A FRAME SIRES ARE:
TF ITOHANA 2
ITOSHIGEFUJI TF147
ITOMORITAKA ETJ 002
GROUP C FRAME SIRES ARE:
WKS KITAGUNI JR
WKS TAKAZAKURA
TF ITOMICHI 1-2
ITOZURUDOI TF151
HIRASHIGETAYASU ETJ 001
LMCC Sires:
LMR KENICHI 807T
LMR TOSHIRO 1-3 723T
BAR R 12P TAKAZAKURA
LMR SENSEI 817T
LMR MICHIRO 0193X
LMR YOSUKE 5165C
LMR KATSURU 4278B
LMR HAYAO 5549C
LMR MASAHIKO 1250Y
LMR KITAGUNI 1441Y
LMR AKAHIGE 8119U
LMR ICHIBAN 810T
LMR HIRASHIGETAYASU 462Z
LMR DAISUKE 2470Z
LMR HAYAO 5549C
LMR KAZUKI 770T
LMR TAISUKE 401B
---
[MARBLING]
GROUP B MARBLING SIRES ARE:
WKS SANJIROU
WKS YASUFUKU JR
JVP FUKUTSURU 068
JVP KIKUYASU 400
WKS MICHIFUKU
TERUTANI TF40
KITATERUYASUDOI ETJ 003
ITOSHIGENAMI TF148
KIKUTERUSHIGE TF150
KIKUTSURUDOI TF146
LMCC Sires:
BAR R SANJIROU 4P
LMR AOICHI 2468Z
WKS-LMR MICHIFUKU 3500A
LMR HIROYUKI 3492A
GROUP D MARBLING SIRES ARE:
WKS HARUKI II
WKS SHIGESHIGETANI
LMCC Sires:
LMR YOJIMBO 634S
LMR HIRO 0195X
LMR HIROSHI 766T
LMR SHICHIRO 2403Z
LMR YASUMASA 2428Z (CL16+)
LMR MITSURU 2450Z
LMR HARUKICHI 5106C
WKS-LMR MICHITSUGU 3489A
LMR YASUFUKU 2416Z
LMR HARUKIRO 5340C
LMR KUROSAWA 5301C
LMR SHUNICHI 5339C
LMR YOSHIHIRO 4335B
LMR KAZUHIRO 351
---
With one exception as noted, All LMCC Sires are Genetic Defect FREE – determined by parentage or by test. LMCC semen is distributed by ORIgen, Huntley, MT – http://www.origenbeef.org or call; 1-866-867-4436 and ask to speak with Lone Mountain representative.