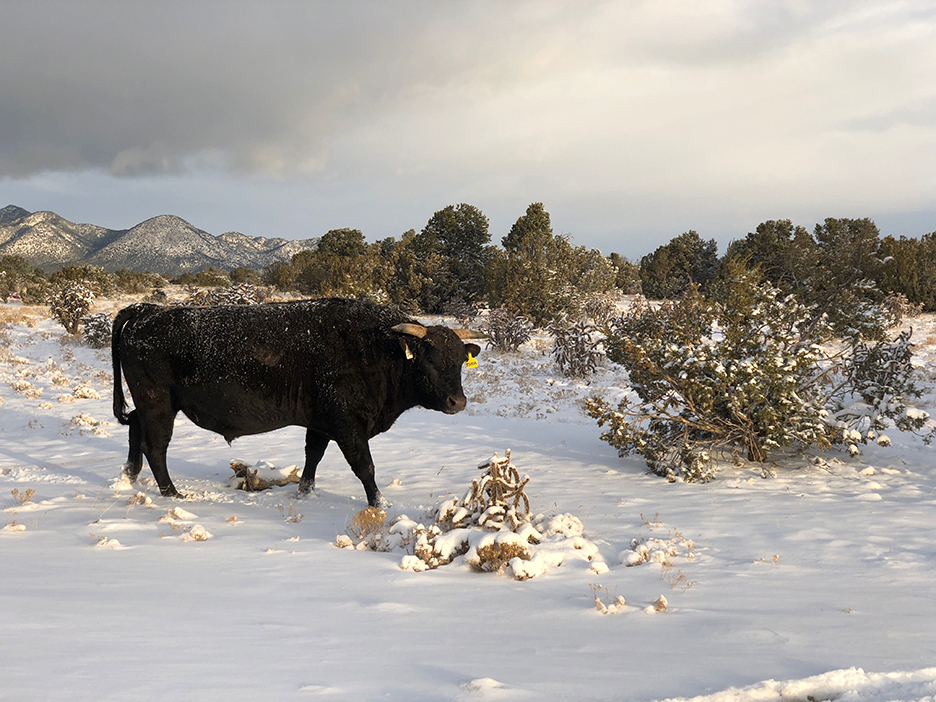 2018 Updates: What's Been Happening at Lone Mountain Cattle Co
Howdy Folks,
We're hoping that the New Year is treating you all with remarkable success. We haven't
sent out a blog post in quite some time, so we wanted to give you an update on what we've
been up to these last few months. First, two updates from our Herdsman Justin Boatright, one
from the end of 2017, one from January 2018, with some details on the ground at Lone
Mountain Ranch. Following that, we're happy to announce the completion of a redesign of our
website, so read below about that. We're also thrilled to release updated results on our Sire
Performance Study, and of course, we've got an updated list of semen available for purchase
from us. So, grab a cup of coffee and have a read.
From our Herdsman, Justin Boatright, end of year 2017:
"Really dry here in north-central New Mexico.  Can't complain though, at least we
calved out without a huge winter storm.  Last calf I tagged was 7900E.  We've had 131 calves
this past calving season with 8 F-1's. So far, we've lost 10 battling scours and coyotes.  There
have been 23 calves that have come down with scours, but we've only lost 4.  The other 6 are
chalked up to those danged coyotes.
Last week we finished all the preg checking for the October-calving cows and the
recipient cows from Pasture 12A.  20 out of the 28 took their embryos – 71 %! Happy times. 
And we finished working half of the 100 calves we weaned just last week, the 7300E
series.  We didn't cut anything: just branded; vaccinated; EID tags; and tattoos.  No dehorning
necessary, as the paste is really working well for us. They had good weaning weights, over
300 lbs for most of them.  We still have a bunch to go.
 Need to go through three pastures and pull all the pairs that will be used in the
January breeding.  Those cows will need to receive their yearly vaccinations 30 days before
we breed them."
Then, at the end of January, Justin reported:
"We definitely need some precipitation.  Its not been so bitter cold as recent years,
but dry and windy as can be.  Past couple of weeks have been very busy.  We Artificially
Inseminated around 140 Fullbloods; flushed another 25 with about 80 recipients available for
transfer.  Unfortunately, Doc DeGrofft was only able to use 23 of the 80 – definitely not great.
But we will be able to make a lot of that up when we re-synch them in 3 weeks. 
This past week we have been putting cows out with their newly assigned cover bulls.
Finished that on Thursday, and they settled in just fine to their new homes and mates. Friday
we split out an additional 10 recipient cow pairs from 5A to use in the re-synch.
Hopefully we can now start working on halter breaking the heifers in pen 7.  And hope
everyone has a great week next week.  Pray for Rain!"
We've been hard at work completely overhauling our website, and the labor of love is
now complete, so without further ado – our updated LMCC website. We believe the
website is not only beautiful, but we have added robust information for those looking at Lone
Mountain Cattle Company to be their premier source of genetics. Please visit and take a look at
our new and improved website.
Perhaps the most important element is the release of 2017 year-end results of the
LMCC Sire Performance Study. Having imaged over 650 carcasses, the December 2017 Sire and
Dam Sire Summaries, calculates not only the IMF%, but Marble Fineness and REA as well. In
addition, the summaries also calculate by the USDA grade given at the time of harvest, allowing
one to contrast and compare actual IMF% results with grading by eye by the USDA inspectors.
The 2017 year-end sire performance study report is complete and available to
view/download here.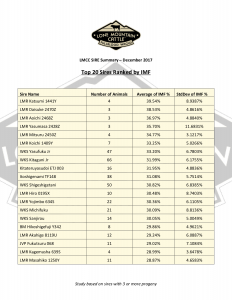 LMCC Sire Summary Dec-2017
We are excited that, for the first time, based on actual carcass data 6 LMR sires are
outperforming their sires, including stalwarts of foundation sires such as WKS Kitaguni Jr and
Itoshigenami TF148. Granted the numbers of harvested animals are nowhere near those of
their sires, but they are an indicator of the future about which we are very enthused.
This is very exciting because it further strengthens the significance of collecting data to
allow you, the Wagyu producer, to make the best decision for your herd based on objective
measurements.
Check out the available semen here – you'll be able to determine if this is exportable to
your country, the cost of each straw and can narrow down your semen search by carcass,
balance, growth and marbling traits. And with a click of the mouse, you can see detail on each
available sire.
You can purchase directly from us. Send us an email at sales@lonemountaincattle.com
with your genetics inquiries/interest. Or call us at 505-281- 1432 or 310-622- 1040 and we'll be
happy to answer any question and/or offer more information. And take your order.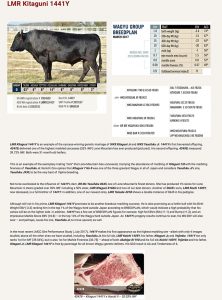 LMR Kitaguni 1441Y detail
It's been an incredible journey so far and we're pleased to share with you what lessons
we have learned and continue to learn. Our hope for all is that the rest of 2018 continues to be
a rewarding success for each and every one.
All the best,
Lone Mountain Cattle Co.